Game 4 Recap: Sol at Spiders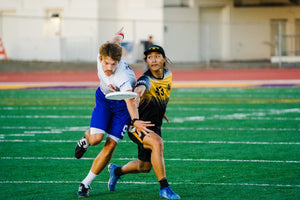 Written by: Marcus Lee
After their wake up call last week the Spiders alongside head coach Dan Silverstein came out ready in their week four matchup against Austin Sol. For the first time this year the Spiders started the game on defense. After having struggled to convert in the first quarter of games this year the Spiders were able to use the momentum of the first point after Jordan Kerr had a layout block followed by an assist to Jake Thorne. This was the first time all season the Spiders were able to score first and they didn't look back. Scoring 4 of the first 5 points the Spiders had their biggest lead of the year in the first 5 minutes of play. The Spiders ended the first quarter up 9-5.
In the second quarter Austin was able to close the gap a little. Their offence was able to score everytime they were on the field and their defense was able to get two breaks. Although Austin was playing better the Spiders were able to stay comfortably in the lead. Much of the Spiders offense ran through Justin Norden and Andrew Moore in the first half. Norden had 5 assists of his 7 assists in the first half. Moore continued his productivity from week three's game with 4 goals in the first half. Norden and Moore helped lead the Spiders to take half 15-12.
Coming out of half the Spiders were able to get a quick break before trading holds for the majority of the third. With three and a half minutes left in the third the Spiders led Austin 21-17. Jordan Miller was able to break the run of holds with two chase down blocks in the endzone leading to the Spiders taking the third quarter up 23-18.
Despite a late run by Austin in the second half of the fourth quarter the Spiders lead proved to be too great and the Spiders won 28-23. In the end the game was won by the defense. The Spiders were able to get 8 breaks in the game while Austin only had 4. The Spiders defense was anchored by Jordan Kerr who had 4 blocks and played elite defense on turns allowing the Spiders offence to get the disc back. The offence was led by Sawyer Thompson who had over 600 total yards as well as 4 assists, 4 goals, and  3 hockey assists. 
With this win the Spiders advanced to 2-2 on the season and are now tied for the second best record in their division only behind the San Diego Growlers (4-1). The Spiders have two weeks off to prepare before they face the Dallas Roughnecks (2-2) on July 17th in the AUDL game of the week.