2023 Spiders Open Tryouts attended by over 70 players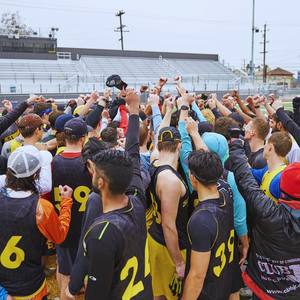 On a cool Saturday morning, with the Bay Area blanketed in clouds and rain in the forecast, over 70 aspiring Spiders gathered at Fremont High for a chance to play for Oakland. As young as 18, and as old as.… older, players traveled from as far as Sacramento and Santa Cruz, eager to showcase their Ultimate skills and compete during the Spiders open tryouts.
Despite the wet conditions, spirits were high throughout the nearly 4-hour tryout. Spiders coaches and captains led attendees through a series of mini-games and drills designed to test the players' technical abilities and field awareness. The drills, in particular, provided a platform for players to show off their throws, defense, and ability to read and react on the large AUDL field.
Throughout the tryout, returning Spiders were impressed by the high level of athleticism and depth of talent present at this year's tryouts. "2023 is going to be an exciting season for the Spiders," said Team President and General Manager Jackson Stearns, "we have a young team that really started to come together in the second half of last season. Tryouts are going to be very competitive this year, and if today is any indication, the talent of the next generation is off the charts." It will be up to Head Coach Dan Silverstein and team Captains Evan Magsig, Max Williams, and Keenan Laurence to harness that talent into a complete team, able to compete in the west division- arguably the toughtest division in the AUDL.
With over 70 players and only 20 roster spots available, the team leadership has a difficult task ahead of them in selecting the final roster. For those that made the cut following open tryouts, an invitation awaits to participate in closed tryouts, starting this Saturday, February 11th at the Oakland Roots Training Facility.