Spiders Up Close - with Delilah Masket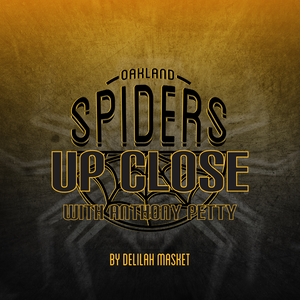 Spiders Up Close
By Delilah Masket
The Spiders take pride in a great roster of players and staff who represent the best of Oakland and Ultimate. In a series of interviews over the course of our 2022 season, we'd like you to meet them and share their stories. You can meet the team in-person at each home game. 
This week- Anthony Petty, Spiders Strength and Conditioning Coach. His mission: keep professional athletes in top physical shape while spreading the word on how to do it. 
ANTHONY PETTY
Strength and Conditioning Coach 
Delilah: What led you to this profession and to be a trainer for Ultimate specifically?
Anthony: I was a special education counselor for Castlemont High School in Oakland and Encinal High School in Alameda. I started out wanting to be a trainer to work with kids and found my calling. A while ago, at a school assembly program, we heard about Type 2 diabetes and how it's prevalent in socioeconomically challenged communities. We learned about food deserts, and how there are corporations like Coca-Cola that target specific communities. I was already working with kids and was thinking it would be kinda cool to help kids become healthier. You know everyone wants to be bigger stronger faster, everybody wants to lift weights, and so that's a great segway for me to say "okay, well if you want to get bigger, stronger, and faster, let's eat better, let's sleep better, let's talk about how we can train better so we can reach our goals." So that's what led me to become a trainer. 
Once I became a trainer, I started training Jackson Stearns. When he first came in, he was getting ready to transition to his role of being the Spiders' General Manager. I'm assuming that he enjoyed the training that we did so much that he decided to bring me on board. And boom, that's how I got into Ultimate. 
There are lot of similarities in the training style between football and Ultimate, such as the routes you run, the angles you cut at, etc. I'm a former football player so that was a style of play that I already had a lot of experience in.  I thought it would be fun to take what I used to be good at, and apply it to this sport. One dot connected to the next. It just seemed like a really good fit organically, and I stayed with the Spiders.
Delilah: How would you describe your experience working with the Spiders and AUDL? 
Anthony: It has been really fun. I've had an opportunity to learn a lot, to stretch myself, and coming from football, there were things I knew and understood that I could apply to Ultimate. I'm always learning. I always like to know new things and figure out how I can take what I've learned from strength and conditioning and apply it to something slightly outside of my comfort zone. I just really enjoy going out onto the field and working with the players, in a way that I have never done before. My background is completely playing football, running track a little bit, and playing basketball. But Ultimate is something completely different, and I enjoy the challenge.
Delilah: What has been the most unexpected thing you've learned being the Spiders' trainer?
Anthony: Frisbee is no joke. When I first came out to a practice I was thinking "I could do this," and I wasn't respecting the sport enough to see these guys initially as real athletes. But my attitude changed a lot. I took a group of high schoolers to Oakland Tech, and some of them were 6'1" or 6'2", big wide-receiver football players. They were out there running with Jackson and he was just destroying them, I mean they couldn't even keep up. They have the natural ability and the speed and quickness and can jump high, but Ultimate is a whole different beast unto itself. So, that's something that I've really come to value. Ultimate players are high-level athletes. I know it's a great community and a recreational sport, but don't get it twisted. You could get out on the field and get blazed quickly.
Delilah: What do you love most about your job? 
Anthony: Learning, meeting new people, and getting to be a student. I always have my head in a book. I have three strength and conditioning books that I am reading constantly. I call them my Bibles. I just love the experience of learning, getting to meet new people, and hearing about their journey. Hopefully, when I do meet them and we have finished our work, I will have taught them one thing that they find useful and can apply to their own movement and training practice.
Delilah: What are you most looking forward to, going into this season?
Anthony: Championships. We need to beat that San Diego team. And okay, we need to get to the playoffs first, get through the regular and postseasons, and then get to winning that championship. I like to compete and I wanna win big.
Coming up next in our series of interviews with the Spiders' staff, meet Jason Gant who has a job you may never have heard of, but everybody could use his skills.