Spiders' Tryouts Radiate Energy, Effort, and Community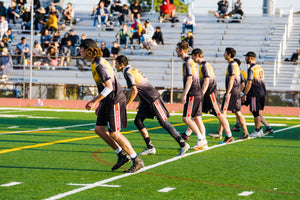 Spiders' Tryouts Radiate  Energy, Effort, and Community
By Delilah Masket
Day one of Oakland Spiders' open tryouts for the 2022 season brimmed with energy and excitement. More than 70 athletes took the field at Oakland Technical High School to prove their skill, and compete for their chance to play for Oakland. With roughly 20 roster spots available, players fought hard for a place on the team while demonstrating the community and camaraderie that Ultimate is known for. 
During warm-ups, players showed the focus and energy one would expect at a professional level. From the start, players were fully engaged, playing with grit and athleticism throughout each drill and scrimmage. With a spot on the team at stake, each player was running through the disc, catching it at the highest point, and laying out left and right.
The high level of camaraderie and community spirit between new and old players throughout the four-hour tryout was evident. Everyone was high-fiving everyone else, and the supportive cheering from the sidelines was a constant reminder there would soon be fans in the stands.
 For potential new Spider Winston Tran, a driving factor in his decision to try out was to "meet new people in the community, and just play some frisbee." While Henry Lawton, excited to be on the field trying out for the first time added, "I want to play against very high-level Ultimate players in a setting where people want to do well and be competitive." Aspiring Spiders consistently expressed the desire to meet new people, learn from others, and create memories playing the sport they love. 
Several Spiders from prior seasons who attended tryouts guided drills and acted as leaders on and off the field. Throughout the Spiders organization, players, coaches, and staff expressed excitement for the upcoming season. "We want 700 fans in the stands, swag out of the wazoo, and to become the most exciting team to watch in frisbee," declared Spiders Captain Keenan Laurence. He has high expectations for this year, while player Chris Lung and General Manager Jackson Stearns are looking forward to interacting, engaging, and connecting with the Oakland community.
So, what's next? Spiders' leadership will make final roster decisions following the closed tryouts on February 12th. In the meantime, players will continue to train, practice, and wait in anticipation of the roster release. Coaches, tryout players, and returning players are all looking forward to the first season as the Oakland Spiders and their chance to build the sport and community involvement in Ultimate. Time to get excited.
About the author:
Delilah Masket is a copywriter for the Oakland Spiders. Delilah was introduced to Ultimate as a 2-year-old on the sidelines of her Dad's games. Delilah is a senior at Oakland Technical High School, a founding member of the school's DiscOTech Ultimate team, captain of the mixed and girlx teams, and also plays for several Bay Area youth club teams including Cali Roll, OAK, and a BUYA YCCs team. Delilah playes Ultimate for the thrill of competitive sports, exercise, fitness, and the friendships and connections she's made through the sport. 
In 2021 Delilah was invited to try out for the U20 Worlds team. When she isn't playing Ultimate, Delilah spends her time doing musical theater, baking, and enjoying her friends and family. Delilah is excited to be part of the Spiders community, and looks forward to covering the team in 2022. Email info@oaklandspiders.com with your suggestions or feedback for Delilah.