Spiders Announce Exciting New Partnership with Line 51 Brewing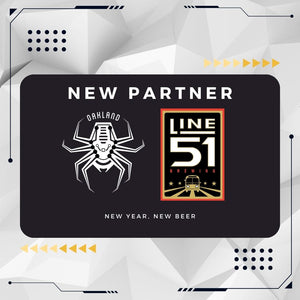 The Oakland Spiders Announce Exciting New Partnership with Line 51 Brewing
OAKLAND, CA. (November 15, 2023)- The Oakland Spiders are thrilled to announce a dynamic new partnership with local favorite, Line 51 Brewing. This partnership is set to bring our fans together throughout the 2024 season.
As part of the partnership, Line 51 will be the official host for all Spiders Watch Parties when the team hits the road in 2024. Fans can come together wearing their favorite Spiders gear to root for the team in a vibrant, energetic, and family-friendly setting with a pint and a bite to eat. 
The Spiders and Line 51 are also collaborating to craft a unique beer that embodies the spirit of both brands.  Our community will also have a say in the beer's creation. While details are still brewing, more information about this unique beer venture will be shared soon. The partnership will officially kick off December 16th at 5pm at Line 51 with a special holiday party for our fans. This will be an unforgettable celebration of community, sport, and of course, great beer!
Spiders President, Jackson Stearns, shared his enthusiasm saying, "As an Oakland brewery, Line 51 shares the Spiders' dedication to community and passion for sport. We couldn't be more excited to officially partner with Line 51 for watch parties, special events, and amazing beer. We're looking forward to growing together on and off the field next year."
For those eager to get a taste of what's to come, Line 51 welcomes fans to their family-friendly taproom. Line 51 is located in Oakland's Jack London Square at the corner of 3rd and Castro St. and is open on Thursdays and Fridays from 2pm-10pm, Saturday 11am-8pm, and Sundays 10am-8pm.
Stay tuned for more details, and cheers to a thrilling partnership!
About Oakland Spiders:
Founded in San Jose in 2014, the Spiders are the only back-to-back champions in American Ultimate Disc League (AUDL) in league history. After relocating to Oakland in 2022, the Spiders mission remains to entertain and inspire our community to live healthier, more connected lives through Ultimate. As an organization the Spiders are committed to giving back through volunteerism, fundraising, and building our Community Web. For more information on the Spiders visit https://oaklandspiders.com/ 
About Line 51 Brewing:
Line 51 is a family friendly brewery in Jack London Square. They have fun and unique events every week from sports to comedy, and more. Line 51 has been family owned and operated since 2012 and they're a big supporter of the Oakland and East Bay community. For more information on Line 51 visit
https://line51beer.com/