GAME RECAP: SALT LAKE VS. OAKLAND MAY 13, 2023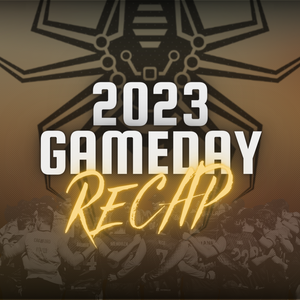 By: Josh Frojelin
OAKLAND – The Oakland Spiders could not pull out another nail biting victory, unfortunately falling to the Salt Lake Shred 25-27 in overtime.
The Spiders and Shred traded holds and breaks back-and-forth. After the first half, the score was level at 13-13 with Defensive Player of the Game Raekwon Adkins especially standing out in his defense against the Salt Lake handlers. The young Oakland team was matching up well against a Salt Lake squad that finished 11-3 last season.
The Spiders started the second half with a break, immediately firing up their teammates and crowd. Oakland's defense would force four breaks total. As head coach Dan Silverstein put it: "They did a great job of slowing Salt Lake down in the ways we wanted to slow them down."
In the second half, the Spiders' offense also continued to thrive. Player of the Game Dexter Clyburn—in his AUDL debut—secured three goals, two assists, and over 600 total yards. Mac Hecht finished with over 700 yards again, and Offensive Player of the Game Keenan Laurence tallied over 400 total yards, two assists, and five goals.
"I thought they looked dominant," said the head coach. "Salt Lake was not able to stick with them in the deep space. Even when the throw hung up in the air, the dudes were bringing it down."
As time winded down in the fourth quarter, Oakland needed one of those "dudes." An uncharacteristic throwaway by Hecht led to a Salt Lake break with just 40 seconds remaining and the Spiders down 25-24.
The Spiders moved the disc up the field efficiently, but Max Williams still needed to throw up a 25 yard backhand as time expired. Despite a bobble and a lengthy deliberation by the officials, Gavin May was able to secure the goal and force overtime. 
"At that moment, I believed we had the opportunity to come back," shared Silverstein.
Unfortunately, overtime would not go Oakland's way. The Shred got an immediate hold, and forced a quick break to go up 27-25. The Spiders were unable to score in overtime.
"It was a great game," lamented Silverstein. "I was very proud of what the team put together." 
Perspective is important for the Spiders as they continue to infuse young and new talent into the squad. As the head coach explained, "I think we can move on being happy, seeing how our ceiling compares to other team's ceilings. Salt Lake exposed some things that we need to improve."
"I think we have the ability to do that, work on one or two things, and really bring a stronger team into the next couple games," Silverstein concluded.
The Spiders' next game will be away at the Portland Nitro on Friday, May 19. Streaming is available through audl.tv and the team's watch party will be hosted Line 51 Brewery. The opening pull is at 7 p.m. PST.