GAME RECAP: SEATTLE VS. OAKLAND APRIL 29, 2023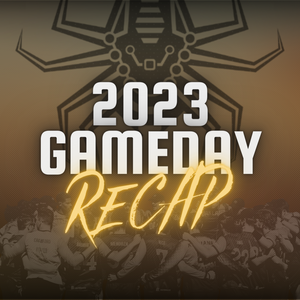 Oakland Spiders Kick Off Season with Thrilling Victory Over Seattle Cascades
Oakland, CA - On a beautiful day at Fremont High School, the Oakland Spiders opened their season with a thrilling overtime win against the Seattle Cascades. While Seattle played brilliantly, the Spiders played with their typical grit and joy to squeeze out a one goal victory- final score 24-23 Oakland.
The Spiders took an early lead with a quick score from new Spider Mac Hecht, who finished with a league leading 9 assists, 65 completions, and over 500 throwing yards while earning Player of the Game award. Seattle had no answer for Hecht's quickness and pin-point throws all over the field, and he made several clutch plays throughout the game.
It was a back-and-forth battle, with both teams trading points and momentum. After an early Oakland break in the first quarter, the Seattle offense recovered and throughout the first half consistently found just enough space against Oakland's double teams to keep the game close. The first half ended with the Spiders leading 12-14.
Spiders players charge onto the field with intensity, ready to take on their opponents in a high-stakes match
The second half was just as intense as the first, with both teams refusing to give an inch. Wyatt Berreman was a standout performer for the Spiders on the defensive end, shutting down several key Cascades players and making some impressive blocks. He finished with 1 goal, 1 assist, and 2 blocks, earning his first Defensive Player of the Game award this season. While 2022 AUDL All-Star Chris Lung finished with 2 assists, 6 goals, and a team high +8 +/- earning him the Offensive Player of the Game award.
With the teams trading goals throughout the 4th quarter, Oakland appeared ready to close out a one-goal lead in regulation, but a diving layout and quick break from Seattle gave the Cascades a one goal lead with less than 2:00 minutes remaining. Oakland would recover for a quick hold, and a massive endzone block from Captain Keenan Laurence with two seconds remaining would send the game to overtime.
Oakland would begin overtime on defense, going downwind. With a little help from the wind, and possible fatigue setting in for a Seattle team playing on the second leg of a back-to-back, Oakland forced a bad pass for a short field turnover. With ten yards to go, the disc found it's way back to Hecht, who floated a beautiful scoober to Lung for the 1-point lead with less than a minute to play. WIth over 480 vocal Oakland fans cheering, and Seattle on the doorstep of forcing double-overtime, Spiders all-time blocks leader Brandon "Springs" Fein sealed the win with an emphatic handblock on Seattle's Garrett Martin.
Brandon 'Springs' Fein's incredible handblock seals the deal for the Spiders in their first game of the season, leading to a victorious celebration.

 
Overall, it was a fantastic game that showcased the best of the Oakland Spiders and the Seattle Cascades. The Spiders came out on top with an impressive team effort. With this win, the Spiders improve to 1-0 and a tie in first place of the AUDL West Division, while Seattle drops to 0-2.