Spiders vs. Aviators Line 51 Brewing Watch Party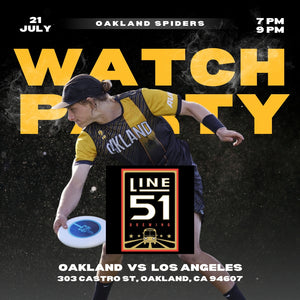 Join Spiders fans and friends at Line 51 Brewing as our playoff push continues! This Friday at 7:30pm your Oakland Spiders travel to take on the Los Angeles Aviators in the AUDL Game of the Week, and the Spiders have partnered with our friends at Line 51 Brewing to host an epic watch party while we're on the road. 
Grab your friends, grab a beer, and get ready for another great game as Oakland looks to beat LA one more time to clinch their spot on this year's AUDL playoffs. Throughout the night we'll raffle off discs, jerseys, and Line 51 beer and prizes.